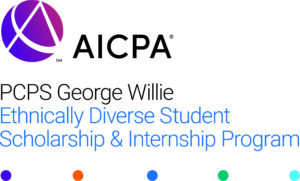 HORSHAM, PA, March 12, 2019 — Kreischer Miller, a leading independent accounting, tax, and business advisory firm serving the Greater Philadelphia and Lehigh Valley areas, today announced that it has been selected as a co-sponsor of the American Institute of Certified Public Accountants (AICPA) Private Companies Practice Section's (PCPS) George Willie Ethnically Diverse Student Scholarship & Internship Program. Kreischer Miller is one of only five firms across the U.S. selected to participate.
The George Willie Ethnically Diverse Student Scholarship & Internship Program connects PCPS member firms with promising accounting majors of ethnically diverse backgrounds. Firms participating in the program serve as the entry point for students to practical experience and exposure to public accounting firms – both critical success factors in increasing ethnic diversity in the CPA profession. Each firm will partner with PCPS to co-sponsor one student to perform an internship during the 2020 tax season (January – April). PCPS will then award up to $20,000 per student to assist with tuition in their final academic year.
The AICPA PCPS selected the five co-sponsoring firms based on several eligibility requirements, including an ability to demonstrate the infrastructure, commitment, and innovation in embracing diversity and inclusion in the firm.
The student internship application period is currently open, with a deadline of May 31, 2019. Students interested in the program can visit aicpa.org/pcpsscholarship for more information.
"We are very pleased to be one of a handful of firms selected to participate in this scholarship and internship program," said Chris Meshginpoosh, Kreischer Miller's Managing Director. "As a firm, we are committed to fostering diversity and inclusion in our profession, and programs like these are a strong step in that direction."
Kreischer Miller's participation in the scholarship and internship program is part of a broader initiative to provide equal opportunities to all team members and foster an environment with a rich diversity of ideas and opinions. In February, the firm announced the launch of several employee work-life integration programs designed to help team members balance their work and life goals in a healthy and productive manner. Earlier this month, the firm also unveiled RISE, a network that provides opportunities for women to connect as a team, learn from one another, and grow their careers.
Read the AICPA's press release and learn more about the program on AICPA's website.
Contact:
Melanie L. Vivian
Marketing Director
(215) 441-4600
Email
About Kreischer Miller
Kreischer Miller is a leading independent accounting, tax, and advisory firm serving the Greater Philadelphia and Lehigh Valley areas. The firm is built to respond to the unique needs of growth-oriented private companies, helping them smoothly transition through growth phases, business cycles, and ownership changes. Kreischer Miller offers a wide range of services, including Audit & Accounting, Tax Strategies, Business Advisory, Human Capital Resources, and Technology Solutions across an array of industries, including manufacturing, distribution, construction, real estate, not-for-profits, media, government contracting, professional services, family-owned businesses, and investment firms. The firm provides insight and creative services to organizations that need to be able to quickly adapt and respond to changing market opportunities and challenges. To learn more, call us at 215.441.4600 or contact us.