Tweet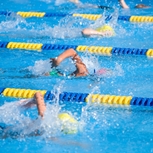 I recently completed my informal financial study that examined whether family-owned businesses truly have a competitive advantage over their non-family owned counterparts. If you missed the earlier parts of this blog series, you can catch up here: part one, part two, and part three.
After looking at a random sample of both family-owned and non-family owned private and publicly-traded companies, here is what I found:
As far as liquidity goes, there really wasn't much of a difference between family-owned and non-family owned companies. The only significant observation was that family businesses seemed to hold a higher percentage of accounts receivable, indicating their collection efforts may not be as aggressive.
In terms of leverage, it was interesting to note that non-family businesses carried a higher amount of debt. I suspect this has something to do with family-owned companies having more of a feeling of legacy and conservatism that tends to make them less receptive to taking on debt.
Profitability did not seem to carry much in the way of differences. Overall, non-family businesses actually seemed to have a slight edge, but not one of significance.
Lastly, I looked at efficiency. Here, it was evident that family businesses clearly had an edge. In looking at both private and public companies, the family-owned companies were consistently a few percentage points ahead.
In the final analysis, the non-family owned businesses had an advantage in the areas of liquidity and profitability. The family-owned businesses held an edge in the areas of leverage and efficiency. So do family businesses truly have a competitive edge? My answer, in true accounting form is, "it depends."
Numbers rarely tell the full story. In many cases, it is the intangible qualities of your business—things like leadership, teamwork, innovation, trust—that will ultimately predict your degree of success. And while many family businesses would appear to have an advantage in these areas because of their common bonds, that is not always the case. They have to work at it, just like any other business. Investing the time to foster a strong, cohesive, and forward-looking company culture will always pay dividends, whether your business is family-owned or not.

Steven E. Staugaitis is a director at Kreischer Miller and a specialist for the Center for Private Company Excellence. Contact him at Email.
What do you think? Do family businesses have an advantage? Share in the comments!