Tweet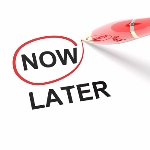 I have worked with a number of business owners over my career who have decided to sell their company. As a result, I have had the opportunity to learn firsthand their reasons for selling. Some of the reasons are what you might expect:
Financial prosperity: "I received an offer that I couldn't possibly turn down."
Lack of succession: "I don't have anyone who will be able to run the company."
Increased competition: "My industry is not getting any easier and I figure that I better get out now while things are still good."
Growth: "I don't have the capital to grow by myself and this provides the best opportunity."
Disenchantment: "I'm too old/tired to continue doing this."
Redeployment of capital: "I have another opportunity which is more lucrative."
Regardless of the reason, if a business owner is considering exiting his or her business, there are a number of steps that should be taken to ensure maximum value. Starting the planning process early is critical, as the process of preparing a business for sale may take 18-24 months. Even if you are not yet ready to exit, there is nothing wrong with considering your options early. Knowing your options, and developing a strategy to increase value, is well worth the time and effort.
First and foremost, surround yourself with the right business advisors. Second, evaluate your management team and ensure that you have the right people in the right seats. Third, take a critical look at your business and consider having a quality of earnings report prepared. Fourth, take steps to reduce risk, whether it is protecting key employees with employment and non-compete agreements, minimizing tax exposures, or diversifying revenue streams.
Remember the old adage "failing to plan is planning to fail." Considering the number of privately-held businesses that will be on the market in the next few years, put yourself and your company in the best position by strategically evaluating where you are and where you want to be. We are all busy, but there is no better time to do that than now.
Mark G. Metzler is a Director with Kreischer Miller and a specialist for the Center for Private Company Excellence. Contact him at Email.  

You may also like: