Tweet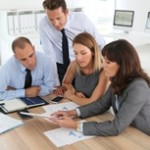 One challenge that family businesses ultimately face is transitioning the company. This can be an emotional time, and companies without a plan may find it hard to navigate. A healthy start is the realization that transition is a process and often takes years to plan and execute.
Below are some framework considerations that can help you prepare your family business for a successful transition.
Capitalization of the Business
Transitioning the equity and control do not need to occur simultaneously. One consideration is to evaluate the capitalization structure of your business. A stock split is a mechanism used to increase the number of shares available, allowing for more precision because each share represents a smaller portion of the business. A recapitalization into voting and non-voting shares or units is a mechanism to manage the control elements of a transition. A combination of the two is often a meaningful way to add flexibility for a future transition.
Compensation Arrangements
It is not uncommon for founders or other key family members to invest a lot of sweat equity in the early years of the business. As the business grows, much of the profits and the ability to extract liquidity from the business is limited. As a result, exiting family members often seek some liquidity. Establishing certain types of compensation arrangements can be an efficient tool to meet the various needs of the shareholders and the company.
Family Governance
It's no surprise that many owners are looking for ways to stay engaged in the family business they helped build. The thought of exiting the business can be a challenging obstacle to overcome. This is where the use of a family advisory board can play a role. The advisory board is a platform for family members to remain involved without getting into the day-to-day activities. Structuring a board that has the right advisors, meeting cadence, and committees can take some time to put together, but the benefits can be invaluable.
Shareholder Agreement
Many shareholder agreements tend to be outdated and fail to reflect language that aligns with the owners' wishes. An updated shareholder agreement, on the other hand, will set the family's tone and intentions for the legacy of the business. In many ways, the shareholder agreement acts like a living will for a company and can be a useful tool to help keep emotions out of difficult decisions.
In the early stages of a transition, a family can make meaningful progress by establishing a basic framework that provides flexibility and structure. Remember, the important thing is to continue to make progress and not worry about perfection.
Steven E. Staugaitis is a director at Kreischer Miller and a specialist for the Center for Private Company Excellence. Contact him at Email or 215.441.4600.
Shannon M. Sabourin is a Senior Accountant at Kreischer Miller. Contact her at Email or 215.441.4600.

You may also like: