Tweet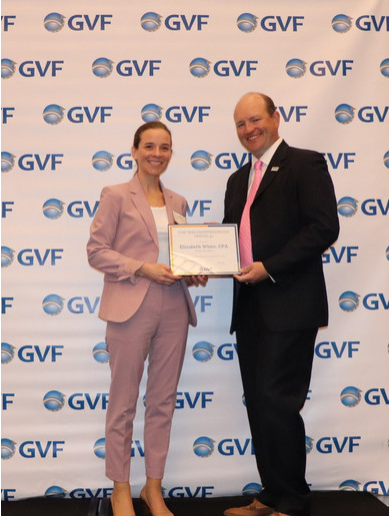 HORSHAM, PA, May 22, 2019—Kreischer Miller, a leading independent accounting, tax, and business advisory firm serving the Greater Philadelphia and Lehigh Valley areas, today announced that Elizabeth A. Ward, a Director in the firm's Audit & Accounting practice, was named to Greater Valley Forge Transportation Management Association's (GVF) list of Top Travel Demand Management (TDM) Professionals Under 40. The recognition took place at GVF's 29th Annual Meeting on Monday, May 20 in King of Prussia.
To date, GVF has recognized over 140 top TDM professionals under 40. GVF presents these awards to ambitious leaders in the region's transportation industry who are working to find creative solutions to improve our quality of life through engineering, planning, marketing campaigns, and the development of commuting alternatives programs that are shifting behavioral change.
Elizabeth is a member of Kreischer Miller's Government Contracting and Architecture & Engineering industry groups and has a wide range of experience providing audit, review, and tax services to a variety of businesses, including engineering firms and government contractors.
To read more about GVF's Top TDM Professionals Under 40 honors and to view the full list of honorees, visit gvftma.com/top-tdm-professional-under-40.
Contact: Melanie L. Vivian, Marketing Director
(215) 441-4600, ext. 146
Email
---
About Kreischer Miller
Kreischer Miller is a leading independent accounting, tax, and advisory firm, serving the Greater Philadelphia and Lehigh Valley areas. The firm is built to respond to the unique needs of growth-oriented private companies, helping them smoothly transition through growth phases, business cycles, and ownership changes. Kreischer Miller offers a wide range of services, including Audit & Accounting, Tax Strategies, Business Advisory, Human Capital Resources, and Technology Solutions across an array of industries, including manufacturing, distribution, construction, real estate, not-for-profits, media, government contracting, professional services, family-owned businesses, and investment firms. The firm provides insight and creative services to organizations that need to be able to quickly adapt and respond to changing market opportunities and challenges. Learn more.