Tweet
Ranked #4 in the Midsize Employer Category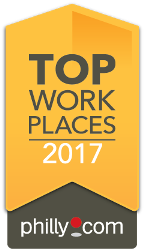 HORSHAM, PA, March 27, 2017 —Kreischer Miller, a leading independent accounting, tax, and business advisory firm serving the Greater Philadelphia and Lehigh Valley areas, today announced that it has been selected as a Top Workplace for 2017 by philly.com. The firm ranked fourth in the Midsize Employer category, defined as companies with 151-500 employees. It was also the highest-ranking accounting firm among all honorees.
The Top Workplaces are determined based solely on the results of an employee feedback survey administered by WorkplaceDynamics, LLC, a leading research firm that specializes in organizational health and workplace improvement. The survey measured several aspects of workplace culture, including alignment, execution, and connection. Kreischer Miller had a 95 percent employee response rate to the survey.
"We are extremely proud to have been selected again as a Top Workplace by philly.com, especially since the honor is based entirely on feedback from our team members," said Stephen W. Christian, Kreischer Miller's managing director. "Our clients consistently tell us that our people are what set us apart, and we believe that difference stems from the investments we make to foster a collaborative, team-oriented environment. We are committed to lifelong learning, and we strive to ensure our team members are motivated to grow and learn as individuals so they can make meaningful contributions to our clients and our firm."
As one of Kreischer Miller's team members noted in the survey, "There are opportunities all around us. We are encouraged and challenged in everything we do, which makes you want to come to work every day."
When asked to complete the statement "I love my job because…" another team member responded that, "You feel like you are part of something bigger than a job. It is a family atmosphere where they want everyone to succeed and are there to support your career growth."
Philly.com published the complete list of Top Workplaces on March 26. For more information about the Top Workplaces lists and Workplace Dynamics, visit www.topworkplaces.com and www.workplacedynamics.com.
Contact: Melanie L. Vivian, Marketing Manager
(215) 441-4600, ext. 146
Email
---
About Kreischer Miller
Kreischer Miller is a leading independent accounting, tax, and advisory firm, serving the Greater Philadelphia and Lehigh Valley areas. The firm is built to respond to the unique needs of growth-oriented private companies, helping them smoothly transition through growth phases, business cycles, and ownership changes. Kreischer Miller offers a wide range of services, including Audit & Accounting, Tax Strategies, Business Advisory, Human Capital Resources, and Technology Solutions across an array of industries, including manufacturing, distribution, construction, real estate, not-for-profits, media, government contracting, professional services, family-owned businesses, and investment firms. The firm provides insight and creative services to organizations that need to be able to quickly adapt and respond to changing market opportunities and challenges. To learn more, call us at 215.441.4600 or visit www.kmco.com.