Tweet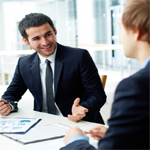 A few weeks ago, my father turned 67. Instead of expecting gifts or a party from his family, he turned the tables and sent a very heart-felt thank you letter to my two brothers and me. At the core of the letter was a reflection on the blessings he has in life – in particular his family – and a single deeply-rooted belief. He said,
 "You know, I believe that a man's legacy is not written in terms of how much wealth or fame he achieves (despite what the media and Hollywood say), but really by what he is able to contribute to this world to make it just a little bit better, better because he was here."
That statement in particular got me to thinking about how this belief seems to resonate with so many of the family businesses we are so fortunate to work with every day. When I have seized the opportunity to have an in-depth conversation with these family business owners and listen to their story, I've realized that it is seldom money that they are ultimately seeking. Sure, everyone needs a certain dollar amount so they are not destitute and can enjoy the fruits of their labor. But beyond that, any amount that provides a base level of security often seems to be enough.
What I have realized as I have gotten older is that we are all really just temporary stewards of our possessions. The houses we live in, the cars we drive – we really only own them for a period of time because we can't take them with us when we pass. But what is most important is the use we make of these things – the memories we create, the values we pass along to our children. That is what truly lives on. I have found that what most family business owners are seeking (once they have their financial security) is to leave a legacy – their personalized mark on this world. They truly feel that it is just as important to make sure they leave their family business in equal – if not better – condition than when they were running it, so that the next generation can have the opportunity to make their mark.
Steven E. Staugaitis is a director at Kreischer Miller

and a specialist for the Center for Private Company Excellence. Contact him at Email.

You may also like: