Tweet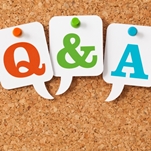 Over the past two years I have been writing about various aspects of family-owned businesses. Recently, I decided to take a different approach and spend some time with a few of our clients to get their perspective from actually being "in the trenches."
For my first interview, I spoke with Cary Walton, second generation and President of Automotive of York, Inc. The company, which is headquartered in south central Pennsylvania, owns and operates seven NAPA Auto Parts stores across southeastern Pennsylvania. I talked to Cary about managing the employee aspects of a family business and some valuable lessons learned throughout his career.
What do you think are the unique advantages of family-owned businesses?
As a family we have trust and confidence in each other that we are all doing what is best for the company. Our employees feel more comfortable that we are family-owned knowing that the company will not be changing hands. We have been able to develop a culture where our employees do not feel like a number and they know that we listen.
There are five siblings, all of whom have worked in the business at some point in time. How have you approached family members working in the business?
All of us asked to join the business; we were not approached. Our parents wanted us to make a more long-term commitment. We all started at the bottom and worked our way up. I have driven trucks, sorted the inventory, worked the counter, and answered phones. I was not very good at working the counter, as some of our employees can tell you, but it gave me an appreciation for what our people do on a daily basis.
What programs does your company employ to retain top talent?
The average tenure for our managers is 15 – 20 years, which is higher than the average for our industry. We start by paying our people well and show them there are opportunities to advance. We have a Future Manager Council program in which we meet quarterly with certain individuals from each store to teach them manager skills. It allows us to create bench strength and our employees appreciate the recognition. We take minutes from our meetings and make them public to the firm.
We also make sure reviews are done on time and we sponsor awards and employee events. For instance, I hold a cook-out lunch for all the employees at stores that have a record month. We also have a store of the year award for which we take all the employees and their spouses out for a dinner in order to thank them.
What has been your family's philosophy regarding promoting individuals from within the organization versus hiring from the outside?
We have always had a philosophy to hire from within. This helps keep our people engaged and lowers our turnover.
What has been your greatest lesson learned?
My father taught me to keep an eye on our receivables. When I was working in sales, we had a garage customer that was behind on payments by about $10,000. I insisted that I was keeping an eye on it and would take care of it, but I got busy and did not pay as much attention as I should have. One day the garage owner went out of business and I went to my father to break the news. He reminded me that I said I was going to take care of it and didn't. He took the $10,000 from my pay and said this would be a good lesson learned.
What is the best advice you ever received?
We need to be interested in our customer, not interesting. It is a shift from a 'me' mentality to a discussion about them. To do this, we ask about our customers. As a result, our business has been increasing and our sales are above the industry average.
We also have an obligation to take care of our employees. I view this as a responsibility to not only take care of my family, but also the other 140 employees and their families. We can only accomplish this by continuing to grow.

Steven E. Staugaitis is a director at Kreischer Miller and a specialist for the Center for Private Company Excellence. Contact him at Email or 215.441.4600.

Related posts: