Wednesday, February 2, 2022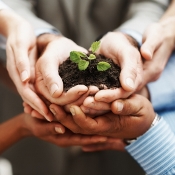 8:30am-11:45am
Start the New Year with an industry checkup that will address key matters that may impact your not-for-profit organization in 2022:
Environmental, social, and governance (ESG) Investing: Equal Measure along with Friends Fiduciary will provide an overview of the steps to take in order to build a values-aligned investment portfolio for your not-for-profit organization – from building an Investment Policy Statement to implementing a robust mission and values aligned investment program.
Enterprise Risk Management (ERM) – Initiating a Practical Program: The Audit Exchange will provide insight into establishing effective and practical ERM programs in a variety of business sectors, especially for non-profits, by applying risk factors and describing several approaches.

Diversity, Equity and Inclusion (DEI) Update:

Kreischer Miller will share examples of its commitment to DEI and how it has taken steps to foster a workplace culture of belonging that is inclusive of all cultures and backgrounds.

Tax Update:

Kreischer Miller will provide an update regarding the IRS's interactions with Tax Exempt and Government Entities in 2021 and goals for 2022.
Presenters: