Tuesday, May 16, 2017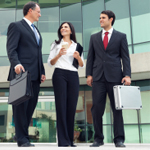 8:00am – 10:30am
DeSales University Center
2755 Station Avenue, Center Valley, PA 18034
Join us on Tuesday, May 16th for this educational session covering key governance issues affecting not-for-profit organizations.
Through an interactive panel discussion, we will explore critical issues and other factors impacting the governance of not-for-profit organizations. We will discuss the circumstances surrounding these matters as well as how to develop best practices to mitigate your risk. Our discussion will include insight on the following subjects:
Fiduciary responsibility
Board composition
Failing to monitor program effectiveness or to make course corrections
Not wrestling with the tough questions
Strategic (& succession!) planning
J. Jackson Eaton, III, Esq., Partner, Gross McGinley LLP
Harold (Hal) G. Black, President of the Board of Managers of the Bach Choir
Maxine Romano, Director, Audit and Accounting
Moderator:
Agenda:
8:00am – 8:30am             Registration and breakfast
8:30am – 10:30am           Seminar
Attendees will receive 2 hours of CPE. Please share this invitation with your board and committee members, and others who may find these topics informative. 
*We've recently begun reframing our reference to the Not-For-Profit industry as "For Purpose." We're hopeful the term will catch on, as we think it better reflects the mission-driven culture and focus of the organizations in this industry.