Tweet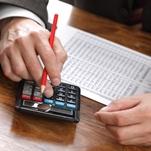 Ask any CFO how the accounting department they oversee is operating, and one of the most common themes you will hear is that it is "lean." Like almost all functions, accounting departments are expected to do more with less in an environment where the availability of timely, accurate financial information is critical to business performance. The good news is that there are techniques you can employ to enhance the finance function even in a resource-constrained environment.
Ensure Proper Oversight is Implemented
Make sure that proper oversight is in place at the appropriate levels. Reviews of bank statements and reconciliations, financial statements, and accounting entries should be performed regularly by a qualified person (or persons) not involved in the "hands-on" daily accounting functions. The value of such reviews increases when they are performed as soon as possible following each monthly reporting period. Controls such as these not only reduce the risk of undetected fraud, but they can also replace lower level controls and lead to a more efficient finance function.
Streamline Operations by Performing Process Walk-Throughs
Schedule time to meet with each individual process owner in order to gain an understanding of their daily activities and ask questions that will encourage discussions about potential improvements. Are all the steps in each process necessary? Do they add value? Are any steps being duplicated by employees? Can inefficient processes be streamlined or eliminated? Based on the answers you receive and the dialogue that follows, you should be able to refine the process and operate more efficiently.
Additionally, it is highly likely that you are not utilizing your accounting software to its fullest capacity; most accounting systems offer various ad-hoc reports that will assist the end user during the reconciliation process and financial statement preparation. Make sure you consider whether these types of reports are being used to drive efficiency in manual processes.
Replace Month-End with Real-Time Processes
Far too often, the lack of timely financial information is simply due to the fact that reporting is viewed as an end-of-period exercise. The reality is that many of the underlying processes can be performed on a real-time basis throughout the month. For example, schedules supporting asset balances can be updated as assets are purchased, depreciation and amortization schedules can be updated in real-time, and entries can be recorded for non-routine transactions well in advance of the monthly close. By shifting the timing of these types of activities, companies can dramatically decrease the time required for closing.
Create Deadline and Cutoff Policies
Create policies for monthly cutoff of invoicing and recording expenses, but more importantly, make sure employees adhere to these deadlines. Make it a requirement – perhaps even as part of annual goals or metrics against which an employee's performance is measured – to submit invoices, expense reports, financial statements, account reconciliations, etc. in a timely fashion. One option to consider is the use of a shared calendar in Microsoft Outlook (or similar program) with important monthly deadlines highlighted. Delays in the monthly close process could lead to last-minute adjustments, which in turn can delay the timeliness with which financial information is communicated to users – both internal (i.e. board of directors) and external (i.e. financial institutions) – and dilute the value of relevant financial analysis.
Revisit the Scope and Nature of Information Generated by the Department
Finally, consider whether information and reports generated by the finance function are useful. When you dig, you will often be surprised to find that the finance function spends a significant amount of time generating information that no one uses. By revisiting the needs of users, you can streamline the reporting process and ensure that you provide the most decision-useful information.
While successful implementation of these suggestions may take some time, long-run success will create the time necessary for the finance function to play a more strategic role as well as arm executives with the information they need to maximize the probability of the company achieving its objectives.
Thomas Yankanich can be reached at Email or 215.441.4600.

You may also like: