Tweet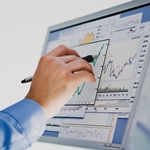 Management dashboards have emerged as a powerful tool in helping managers utilize a proactive approach to addressing operational issues. Dashboards are applicable across numerous functions and industries: Operations, sales, marketing, HR, and finance can all leverage these technologies regardless of whether they are in a manufacturing, distribution, service, or not-for-profit organization.
Implementing a dashboarding system, however, requires a well-disciplined approach to ensure tangible results are achieved from the investment. The following methodology has helped many middle market organizations successfully implement their management dashboards:
Prepare for business change. Before jumping in and developing all sorts of metrics and key performance indicators (KPIs), sit down with the leadership team and define the overall project strategy. Implementation has to start at the top with active engagement and buy-in from the CEO. Having the CEO act as the project champion will drastically improve the project's success rate. The CEO's support will also be needed during the system rollout as some hard decisions will need to be made in order for the project to stay on course.
Establish the right metrics. Once the groundwork has been set, the next step is to identify the right number and type of metrics to track the organization's progress towards its established goals. Metrics can range from harder, more technical goals such as client satisfaction and profit margin levels to softer, less technical ones such as client and workforce retention indicators. It is critical to measure the right factors for your stated objectives and be careful not to get wrapped up with too many factors initially. Information overload can actually reduce overall dashboard effectiveness and also further complicate system development efforts.
Get buy-in at all levels. Implementing an effective dashboarding system will require a significant change in the way managers view their jobs. A newly implemented management dashboard system should change existing reporting and decision-making practices. As such, all involved users should be fully on board with the new approach in order to make the system successful. An effective way of getting buy-in from users is to provide them with the needed training on the dashboarding concept and involve them in reviewing the metrics and providing feedback on user interface and reporting formats.
Use simple development tools. A management dashboard development project should not become an intense IT project! Given the many tools on the market today, IT should be able to use off-the-shelf technologies to build business dashboards in a rather quick manner. It is critical to select a toolset that will allow users a great deal of flexibility, such as changing their dashboard formats based on their individual habits and tastes. The right toolset will allow for integration of corporate data from a variety of sources, ranging from databases to spreadsheets.
Be prepared for surprises. Many dashboard development projects result in new discoveries about your existing data and assumptions that have been in place without much notice for a long time. This is a good time to take a critical look at your data and validate past assumptions. Remember that a dashboard based on inaccurate or inconsistent data will not result in many decision-making improvements.
Look at it as a journey. A successful management dashboard project will get deeper and broader over time. As the system starts being used on an ongoing basis, its functionalities will need to become available to lower level users in the organization. Also, as the initial rollouts prove successful, many other departments and functions within the business will jump on the bandwagon, resulting in a wider adoption throughout the organization. It is best to set these expectations from the start, rather than to promise that all managers from all functions at various levels will use the system out of the gate. Organization-wide utilization of dashboard technologies evolves over time and its value increases exponentially as more managers are added to the mix.
By adapting this methodology to your needs, you can devise an effective roadmap to implement business dashboards in your organization and tightly link daily operational activities with your strategic goals.
Sassan S. Hejazi can be reached at Email or 215.441.4600.

You may also like: