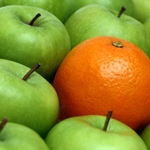 Effective marketing increases sales, profitability, and overall company value. Done well, it can be the fuel that drives the sales engine. Increasingly, good marketing relies on customer segmentation, the process of categorizing your customer base by the key attributes and traits that define them.
By defining groups of customers – or segments – that share similar characteristics and needs, management can make more targeted and strategic marketing decisions. The more you can pinpoint your focus, the greater the return you will achieve on your marketing spend. Otherwise, you risk spreading your resources too thin by casting too wide a net and targeting a broad audience.
Prior to embarking on the process of segmenting your customers, the first and most critical step is to define your goals, objectives, and the specific markets you want to target. This could be by industry vertical, geography, or perhaps different "buyers" of your services or products.
For instance, you may identify potential customer markets in the technology, construction, and legal fields. From there, you may segment your audience into geographies such as Washington, D.C., Philadelphia, and New York City. Additionally, you may identify two levels of buyers of your services – someone in the C-suite and a mid-level IT manager. Clearly, you will want to create different messaging to target a law firm CFO in Washington, D.C. than an IT manager at a New York software company.
This type of messaging strategy reflects a growing shift in marketing away from generic, one-size-fits-all messages toward distinct messages for each target market. By sending customers meaningful communications that pertain to their particular business, you increase your odds of providing them with additional products or services. And thanks to an explosion of marketing technology platforms over the last decade, this process is becoming easier.
Niche markets are sometimes uncovered as a result of customer segmentation. You may discover a defined area of a market that is currently being overlooked by the competition. Once you identify the key attributes of this market, you can build the related expertise and offer products or services to fill the market gap.
Broad, unfocused marketing efforts can waste marketing dollars and resources. By identifying the key attributes and common characteristics of your ideal customers, you can make the most of your investment in marketing while maximizing the outcomes.
Most importantly, the customer segmentation process will provide more insight about your customers and their needs, which will ultimately enhance customer retention, cross-selling, and win rates.
Brian J. Sharkey can be reached at Email or 215.441.4600.
You may also like: