Research has shown that the probability of successfully implementing change for a particular project or initiative is as low as 30 percent. That means there is a 70 percent probability of failure; is that an acceptable threshold? Continually using the same approach or taking a 'trial and error' approach to change comes with a high cost in terms of lost time, reduced confidence, wasted money, and poor utilization of resources.
Chris Mason, founder of Australia-based consulting firm Mindshop, conducted PhD research on ways organizations can improve the probability of successful change. He surveyed 240 leaders from organizations across the globe and learned that there are three main factors contributing to change success:
Readiness (30%): How ready the organization and its people are to implement change.
Capability (40%): The skills, people, training, and resources needed to implement change.
Beliefs (30%): The overall attitude of the organization in relation to the change.
Each of these main factors had a series of sub-factors, 10 in total.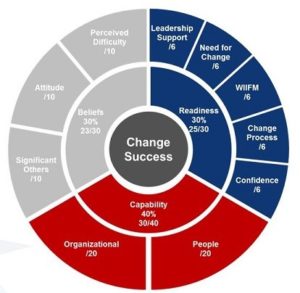 Mason's research showed that if an organization can improve each of these 10 elements, their probability of success is likely to rise significantly above the standard 30 percent. It is critical to note that all factors in the model are interrelated and you cannot focus on one area alone. The challenge for business leaders is to identify their key gaps and put in place specific action plans and key performance indicators to address those gaps.
One tool that can help is Kreischer Miller's Issue Ranking Diagnostic. It is a defined process that fosters the identification of key issues and formulation of strategies designed to render the most significant economic impact. Once you isolate the significant few from the trivial many, you can maximize your investment in one of your most valuable assets – time.
Would you rather work smarter, not harder? Are you tired of saying that you are "too busy"? If the answers are yes, then I highly recommend checking out our Issue Ranking Diagnostic tool and reaching out for assistance.
Robert S. Olszweski is a director with Kreischer Miller and a specialist for the Center for Private Company Excellence. Contact him at Email.    
You may also like: