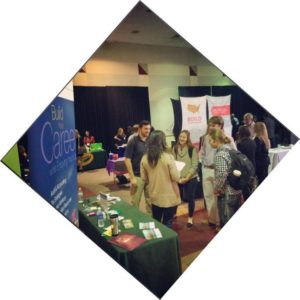 I can remember being back in college, peering wide-eyed into the auditorium, hearing the loud volume of talking going on, and thinking, "Nope. Too many people. Not going in there!" I cringe at that memory years later, especially now as a firm recruiter!
As I learned from personal experience, the first and most important thing in mastering the career fair is just showing up! You can't make a lasting impression if you don't even go in the room. I know how intimidating it can be to walk into a room already full of 100+ people just looking at you and waiting to talk to you, but leave your fear at the door and keep in mind that those people are there to help you. They are there to provide YOU with information. And surprise – you may just make some great long-lasting connections!
Preparation is key to making a lasting impression at a career fair, as is knowing your goal for the event. It's important to have a game plan. Are you looking for a full time job/internship or to just learn about the different career options available to you? Your plan will be different for each. So for example, if you're a freshman or a sophomore who's still figuring­­­­ out "what you want to be when you grow up", then your game plan would be to learn about the opportunities that interest you and what the recruitment process would be for each of them. This will put you so far ahead of your peers, the rest will come very easily.
As part of your preparation, you also need to give a lot of thought to the type of work environment where you perform best. Knowing what makes you tick will help you determine your "must haves" in your job search and develop the questions that will help you get those answers. For instance, do you like to be able to give input and offer new ideas? Then see if there is a vehicle for offering new ideas at the companies you speak with.
Also, be sure you know the difference between your "must haves" and "nice to haves." Is a flex schedule critical for you because you're more of an early bird? See if the company offers an option for flex time. However, if this more of a "nice-to-have" and flex time isn't available, be sure to let the recruiter know it isn't a deal-breaker.
Here are some more tips to help you plan ahead:
Do your research. You can generally get a list ahead of time of which companies will be in attendance. Figure out which companies you want to target and research them so you can be effective in getting the information you need. And since you'll know in advance which companies you want to meet first, you'll also be efficient with your time, thus leaving time to explore companies that you aren't familiar with. Keep in mind that the companies that weren't originally on your target list may surprise and intrigue you after meeting them, so be open to expanding your list.
Plan your introduction. Have a mini introduction (some refer to this as your 30 second "elevator speech") and specific questions prepared in advance. This will give you the chance to tell the recruiter what you want them to know about you and show that you're on top of your game. There is nothing worse than when a student approaches me, hands me their resume, and just looks at me. You need to demonstrate that you can initiate a conversation and keep the volley going once started.
Be yourself. When having a conversation with the recruiter, just be yourself. They will be evaluating you for a fit with their culture and you want them to hire who you really are. Use this as an opportunity to discover whether their culture is a fit for you, as well. Be courteous to everyone you meet, as they do have a say in what happens to your resume and could impact the process.
Follow up. Be sure to get business cards and send follow up emails to reinforce their recollection of you and your strong business etiquette. If you spoke about specific things, write those down on the back of their card so you can refer to them in your note. Also, attaching a clean resume, transcript, or other related documents to your email is a sign that you cover all your bases.
The career fair is an opportunity for you to learn more about the companies that recruit on campus and make a decision whether or not you'd like to try moving forward with them. For the few minutes that you have together, you want to give each person your full attention and make them feel special. Just as they should with you. Does what they have to offer fit your needs? Do you have the criteria they are looking for? It is a small but great investment in time to find your right match.
Interested in Kreischer Miller for your first internship or job?  Check us out on Glassdoor, Facebook, and LinkedIn.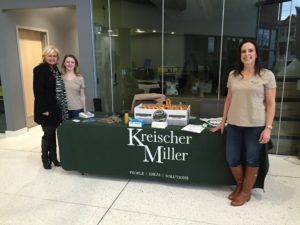 Kristin Seeger (pictured on the far right) is the Recruiting Manager for Kreischer Miller and is responsible for the entire recruiting function of the firm. She joined the firm in 2007 after beginning her career in audit at KPMG and then working as a recruiter for accounting professionals. She enjoys making people smile and being an inspiration to others. When she's not out making connections, she enjoys exercise, reading, and spending time with family and friends. Contact Kristin at Email.