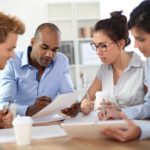 In one of my previous blog posts, I discussed the concept of being proactive in asking for things, because the  worst someone can say is no. However, part of that "ask" is making sure you have the right audience.
Have you ever felt like you didn't know where to turn when you had a problem? This often happens in situations both personal and professional. When it comes to personal matters, we seem to figure out who best could help us. We don't go to our doctor to fix our car or our mechanic to give us a physical.
However, it can be hard to know where to turn in professional situations, especially early on in your career. Here are some tips to identify your resources so you ask the right people the right questions:
Keep your ears open. Who have you heard talk about a topic you need help with? It is always the most effective to go right to the subject matter expert. This can be intimidating at times, especially if that individual is in a position of influence. However, it is important to know that human nature dictates that people like to help others. You will likely be surprised by the help you get from that person.
Ask around. Often, we turn to our peers to help us fix a problem. They are our safety blanket after all. However, they are typically not in the best position to actually move the dial in your favor. That being said, you are likely not the first person with any given problem. So ask your peers who they have turned to with similar issues. If they say "no one," keep asking until you are pointed in the right direction.
Know that no one is a one stop shop. It can be frustrating to turn to some who previously was a resource for you who isn't this time. This is totally normal. No one can have all the answers all the time, even those in the most influential positions. It is well advised to go back to those who helped you before, but if they don't have the answer, use them to identify a new resource for you.
When all else fails, ask Human RESOURCES. This is an absolutely shameless plug. But it is important to know that Human Resources is its title for a good reason – the department is a resource for the humans in your company. Often people equate HR with "getting in trouble" or "making sure we don't break the law," but many of us got into HR to help the employees in our organization. We like to give support and we're typically well-connected to those who may be in a better position to assist you. Building a relationship with your human resources department will often prove fruitful to get you where you want to go in your career.
Ultimately, when you have an idea, a problem, or generally just feel lost, know that there are people in your organization who are there to listen and help you. Knowing the right people to turn to will always move you forward in your career. It is never too early or late to identify who those people are!
Bobbi Kelly is Kreischer Miller's Director of Human Resources. She has over 12 years of experience providing human resources advisory services to a variety of businesses, including privately-held companies and partnerships. Bobbi joined Kreischer Miller in 2014. Contact Bobbi at Email.


Also check out: