Have you ever entered your workplace with a laundry list of things to do but then left at the end of the day wondering what you accomplished? If so, keep on reading.
Activities generally fall into one of three categories: the must do's, the should do's, and the could do's. If you only concentrated on the must-do's and somehow did away with the should do's and could do's, how much time would that free up for you? How would it impact your life?
To get started, we recommend that you make a list of all the things you know you need to get done. A to-do list is essential to create, organize, and keep track of all your tasks in one place. Once you are able to see a consolidated view of all your tasks, you'll be in a better position to prioritize them by placing them into "must," "should," and "could" categories. You can do this by using the following five steps: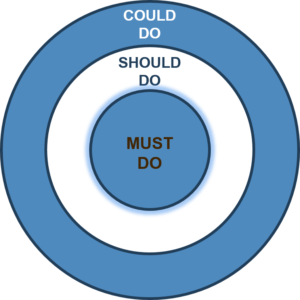 Step 1. Imagine a target with the bullseye labeled Must Do, the next ring labeled Should Do, and the outer ring labeled Could Do.
Step 2. For each item on your to-do list, decide where it plots on the target.
Step 3. Make a list of the items you identified as Must Do's and stress that these are top priorities.
Step 4. Establish action plans or even project teams to address the Must Do's.
Step 5. Think about whether you can say no to any of the items on the Should and Could Do lists. Can you delegate any of these tasks? Otherwise, when you complete the Must Do items on a particular day you can then turn your attention to addressing any remaining items on the Should-Do list.
One more note. Items on your to-do list can be categorized as Must-Do's for a variety of reasons, such as:
A deadline is fast approaching
It is part of an important project
Because you want to do it
Because you have neglected it in the past
Creating a to-do list and prioritizing the items on it might seem like fairly basic advice, but how many of us actually commit the time on a regular basis to go through this exercise and create a plan to maximize the return on investment of our time? How about for our teams' or companies' to do's? Time is one thing that always seems to be in short supply. Putting some thought into how we choose to spend it can yield powerful results.
Robert S. Olszweski is a director with Kreischer Miller and a specialist for the Center for Private Company Excellence. Contact him at Email or 215.441.4600.    
You may also like: