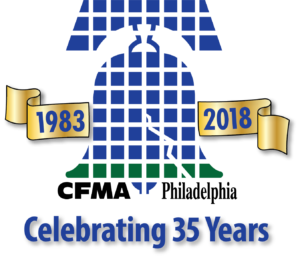 Kreischer Miller is proud to announce that we are a platinum sponsor of CFMA Philadelphia's 35th Anniversary Celebration, being held on Friday, November 30 at the new Museum of the American Revolution.
The Construction Financial Management Association (CFMA) is "The Source & Resource for Construction Financial Excellence" and the only nonprofit organization dedicated to serving the educational needs of today's construction financial professionals. CFMA currently has more than 8,200 members in 98 chapters throughout the U.S. and Canada.
The first chapter of CFMA was founded in Philadelphia in 1983 and since that time it has remained strong and relevant to the construction industry in the Philadelphia region. For 35 years, the CFMA Philadelphia chapter has given its members a tremendous opportunity to improve their knowledge base, to meet people and make friends, to help people who are truly in need, and to support the next generation of construction leaders.
Kreischer Miller is actively involved with CFMA Philadelphia and we congratulate the chapter on 35 years of service and dedication to our region's construction community.
For more information about CFMA Philadelphia or to register for the November 30 Anniversary Celebration, visit phila.cfma.org.
***
Learn more about Kreischer Miller's services for the construction industry here. For more information or to discuss your company's needs, contact our Construction Industry Group Co-Leaders Carlo R. Ferri, Director, Tax Strategies or Mark A. Guillaume, Director, Audit & Accounting.
Information contained in this alert should not be construed as the rendering of specific accounting, tax, or other advice. Material may become outdated and anyone using this should research and update to ensure accuracy. In no event will the publisher be liable for any damages, direct, indirect, or consequential, claimed to result from use of the material contained in this alert. Readers are encouraged to consult with their advisors before making any decisions.