Kreischer Miller held a Lunar New Year celebration on Tuesday, January 24, 2023, and everyone had a blast! Over 100 team members attended and we had a tremendous experience enjoying delicious Asian food, beautiful arts and crafts, and other fun activities.
In Chinese culture, the color red is associated with energy, happiness, and good luck. So, we decorated our kitchen area with red paper cutouts, lanterns, decorations of fu (blessings), and rabbit, as this is the Year of the Rabbit.
Team members were welcomed with hongbao, which are small red envelopes containing money given to children, family members, friends, and employees as a symbol of good luck. The envelopes include golden chocolate coins and decorated paper which is used to write your new year wishes. Team members were also able to take home red souvenirs.

We also had a Chinese expo table, where Mingsi Chen, Staff Accountant, Tax Strategies and Ashley Jiang, Manager, Audit & Accounting, wrote team members' names in Chinese calligraphy. Chinese calligraphy is the writing of Chinese characters as an art form which combines purely visual art and the interpretation of the literary meaning. The calligraphy was performed with ink made from lampblack (a sooty residue created by burning pine resin or oil underneath a hood), bamboo brushes (made from animal hair, such as goat hair, rabbit hair, and weasel hair, or a combination of the three), and xuan paper (made from the tough bark of the Tara Wing-Celtis or Blue Sandalwood tree and rice straw). A long list of people signed up to have their names written!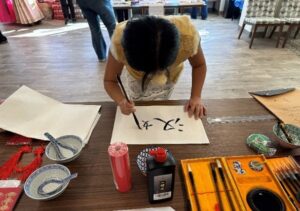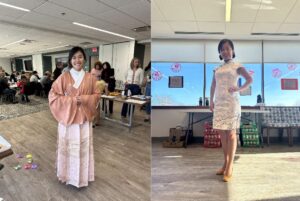 Are you a fan of the Korean show Squid Game? If so, you may recognize the games at our Korean expo table. The table featured dalgona candy with stamped shapes and ddakji, a paper flipping game. If you were successful at carving out your shape from the dalgona candy or flipping your ddakji, you were able to choose a prize of either a Korean beauty mask or a pair of wooden chopsticks. You could also get your name written on a bookmark in Hangul (the Korean alphabet) while enjoying refreshing drinks such as sikhye (sweet rice drink) or sujeonggwa (cinnamon punch).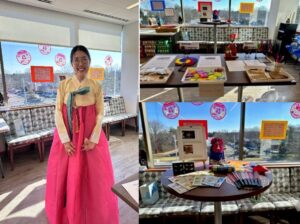 There was also a variety of delicious Asian food. We ordered from an Asian restaurant close by, and Kreischer Miller team members contributed their own homemade Asian dishes too! The gyoza (fried dumplings) and Korean BBQ chicken were gone instantly. Crispy pork belly, beef bulgogi, and Chinese sticky rice with sausage were also extremely popular. We also had Korean coffee, Vietnamese dessert (including Che Thai), sweet egg tart, and more.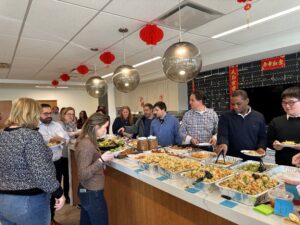 Here's what some of our team members had to say about the Lunar New Year celebration:
"This brought so many of us together again; a perfect way to celebrate. Today was fun, educational, and the food was delicious."
"Great job on yesterday's Lunar New Year event. I had so much fun and it was so beautiful and well-planned!"
"As a team member who celebrates Lunar New Year, I appreciated our firm hosting and joining us in this celebration; it filled my heart when team members came up to me to ask about my culture!"
"I was so excited to share what we do and what we eat with other team members. Seeing them enjoy our culture made me feel more authentic. I really enjoyed this heart-warming experience!"
We continued the celebration on January 27th at Ascend Greater Philadelphia's Lunar New Year event, which was sponsored by Kreischer Miller. This celebration was hosted at the Dim Sum House in Philadelphia, and we kicked the night off with a traditional lion dance! The main event was a fireside chat with Jennifer Lin, Journalist and co-director of Beethoven in Beijing, an award-winning documentary about the Philadelphia Orchestra's visit to China in 1973 and the change it brought to that country.
These two Lunar New Year events were a fantastic opportunity to learn more about this 3,500-year-old tradition that is celebrated in most countries in East Asia. We wish a happy New Year to our team members who celebrate the holiday! May the year ahead bring you prosperity, luck, and joy. 新年快乐!
Authors:

Also check out: