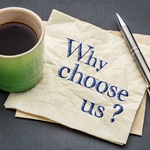 While Kreischer Miller hires new team members year-round, given the work cycle of our profession there are a couple of times during the year when we have larger groups of people starting at the same time. We had a crop of talented new team members join us in early October, some of whom just graduated from college, and we asked a few of them why they chose Kreischer Miller. With all of the accounting firms in the region, we were curious to hear what it was about our firm that was the difference maker for them. Here's what they said.
From my first meeting with a few staff members at a campus visit, I knew Kreischer Miller was different from other accounting firms and that it was the place for me. Then, throughout my tax season internship where I met everyone else at the firm, I knew it would be a great place to learn and grow in my career. Developing my skills in a supportive, team-oriented atmosphere is exactly what Kreischer Miller had to offer. It's a perfect fit for a recent college grad looking to drive my career in the right direction.
Jackie Thomson, Staff Accountant, Tax Strategies
I chose Kreischer Miller because of its great atmosphere. It is nice to know that when I come to work, I will work with people who know my name and recognize my hard work. I also like the open-door policy and everyone's willingness to answer questions.
Kelly Dotter, Staff Accountant, Tax Strategies
I chose Kreischer Miller because I value working with a team of people who are passionate about what they do and truly care about their co-workers, clients, and community. At Kreischer Miller, everyone's opinion counts and hard work does not go unnoticed. Each individual is given the opportunity to make a significant contribution. I was also drawn to that fact that everyone is encouraged to ask questions in order to learn and grow, and Kreischer Miller's team members are eager to help and give advice.
Molly Klein, Marketing Manager
As I began my college career, professors and academic clubs immediately started promoting and introducing potential employers. I had the opportunity to network with different employers each week. Unlike the "typical" route, I shied away from pursuing a career with one of the Big Four firms. I knew I wanted to focus more on mid-sized accounting firms, which led me to Kreischer Miller.
The firm values its team members, which it demonstrates by promoting an environment that fosters a work/life balance. The atmosphere and culture of the firm made me feel like I would be more a part of a team than just a "number." I felt as though pursuing a career here would provide me with the opportunity to grow professionally and challenge myself every day. Kreischer Miller is also conveniently located to my home (which is a bonus!).
Morgan Gass, Senior Accountant, Audit & Accounting
I left another firm to make the move to Kreischer Miller. I had heard great things about the firm from former colleagues, which is why it was the first place I reached out. The directors I interviewed with were very informative. And, they didn't just ask me about my technical skills but took the time to get to know me a little better as a person. Plus, Kreischer Miller's location is a much less stressful commute than the hustle and bustle of taking the train to Center City. The firm truly gives you the feeling that you are working as part of a team, and not just individuals.
Donald Paxton, Staff Accountant, Audit & Accounting
After participating in the Kreischer Miller Experience, the firm's summer leadership program, I knew that I wanted to be a member of the team. The people I met were a big reason why I wanted to intern here and my internship only confirmed the great first impressions that were made. Everyone is warm and welcoming, and they truly want to see you succeed. Kreischer Miller has an exceptional environment that nurtures both personal and professional growth.
Victoria Morford, Senior Accountant, Audit & Accounting

You may also like: