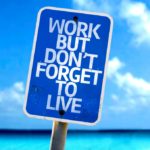 When I was asked to write a blog on how I manage a healthy work/life balance –which over the last few years has included working full-time, going to school for my masters degree, and maintaining a life – my first thought was "I'm not the one to ask about this; it was impossible!" However, after reflecting further, I realized it actually was possible as long as I was deliberate in my choices.
First, I had to be deliberate in my selection of the MBA program. I chose my graduate school primarily because it has many of the same qualities as Kreischer Miller. One of these qualities is a small organization feel (you're a person, not just an employee or student) but with the resources of a large organization. Both my school and Kreischer Miller believe in providing the education and connections to allow you to be successful.
I also chose my MBA program because it was designed for people working full-time. Except in very rare instances, my classes did not require me to be at a certain place at a certain time. As an auditor, my schedule fluctuates significantly and often. While being able to build relationships and see client operations through office and plant visits is one of my favorite parts of the job, the fact that I could be in Allentown one day and Philadelphia the next with varying start and end times means it's extremely difficult to commit to an in-person class at a certain time and place. Online classes with weekly deadlines allowed me flexibility around work commitments and kept my stress level down when my schedule needed to change.
To be completely honest, when I've faced a choice between sacrificing work, schoolwork, or my social life, my social life has always been the one to go and it probably was negatively impacted, at least at the beginning of the MBA program. Finding the routine that worked best for me allowed me to maintain a good balance – and not lose all my friends during the three year program!
For me, this routine involved starting each class the Saturday before it actually began. During the majority of the school year, my husband works on Saturdays so I would complete as much work as possible each Saturday morning and set up a to-do list for the remainder of the week, including fun activities. This allowed me to get ahead of the deadlines and keep my stress level down while letting me schedule social events with friends and family when we were both available. While scheduling your social life so far in advance may not sound enjoyable, it makes sure you aren't working all the time!
Finally, a major part of maintaining a strong work/life balance is learning to say no and avoiding perfectionist tendencies. Setting boundaries and learning to say no may seem like a negative, but in the long run, it allows you to focus on the tasks that are truly gratifying and will advance your professional and personal life.
Anyone who knows me knows I struggle with being a perfectionist – I want to be the very best at everything that I do. However, when you're juggling school, work, friends, family, and volunteer commitments, setting goals which are high but achievable allows you to succeed and have that work/life balance we're all striving to maintain.
Katie Galaska is a manager in Kreischer Miller's Audit & Accounting group and a member of the firm's Not-for-Profit and Manufacturing Industry Groups. Katie joined Kreischer Miller as an audit staff in 2012, after beginning her career with a local accounting firm in Tennessee upon graduating from Messiah College. In her free time, she enjoys spending time with family and friends, playing and watching almost all sports, and baking. 

Also check out: