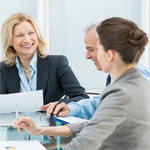 Last February, I wrote a blog post about the Tennessee Titans and the problems their football franchise was experiencing due to the untimely death of their majority owner, Bud Adams. On February 11, 2017, the Pennsylvania-based and family-owned department store Boscov's experienced the death of one of their most iconic leaders, Albert Boscov. However, unlike the Titans, this family-owned business had a succession plan.
Boscov's was founded in 1914 as a single location department store in Reading, Pennsylvania by Albert Boscov's father, Solomon. Albert continued his father's legacy and eventually expanded the company's operations into seven states. Today, the company posts more than $1 billion in sales and employs over 7,500 people, making it the largest family-owned department store in the United States.
During his tenure as CEO, Albert made sure he began grooming his successor. In 2009, Boscov's was in bankruptcy and Albert came out of retirement to help rescue the family business. Albert was a humble man and credited the turnaround to the good people who surrounded him. When Albert retired a second time in 2015, he turned control over to his nephew, Jim Boscov, who is still CEO today.
The company's website boasts an active management training program that recruits college graduates and existing employees who have demonstrated management potential. Trainees in the program are provided a combination of instruction and on-the-job training. In addition, the senior management team consists of several individuals with significant experience in retail and at Boscov's itself.
So what can we learn from a story like this?
First, we can see that having a solid succession plan in place is far less disruptive to the operations of the business and to the employees who work there and depend upon the family business to make a living.
Second, making investments in building a strong management team ensures that a family business will continue to operate, even when the CEO is no longer around. It also provides you more options for identifying future leaders.
Lastly, the combination of a sound plan and making investments in a talented management team significantly increases the chances of continuing the legacy of a family business well beyond the life of its founder.
Steven E. Staugaitis can be reached at Email or 215.441.4600.
You may also like: