As baby boomers continue to move into their retirement years, many private company owners are preparing to retire and transition the leadership of their company to the next generation. It goes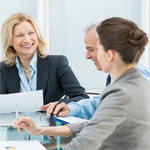 without saying that it is critical to plan accordingly, but it's also helpful to avoid common pitfalls others have experienced in the succession planning process.
Below are six mistakes private companies often encounter when planning for succession:
1.) Playing Favorites
Succession planning is not a popularity contest nor should the job go to whomever has been around the longest. Identifying the proper skillset to lead the company down the path of prosperity should be paramount to all else. As a result, it is critical to first identify the necessary skills to fulfill the position and then evaluate candidates for proper alignment.
2.) Limiting to One Successor
Long-term planning is important within an effective succession plan, but just because you've identified an "heir apparent" doesn't mean you are committed to that particular individual. Keeping your options open to multiple suitors as the process comes to fruition will not only keep everyone on their toes, but will also be handy if unforeseen departures occur.
3.) Assuming a Family Member Will Take Over
It's not uncommon for children to work in a family-owned business. Many of them "grow up" in the business and over time settle into a role within the organization. However, it may not be their desire to one day run the company. Keeping all family members' long-term goals in mind when formulating a transition plan is both critical and prudent.
4.) Not Thinking Outside the (Industry) Box
If you decide you need to look outside the company for potential successors, don't automatically limit yourself to candidates with the exact industry experience. A candidate who has the right set of personality traits and attributes to be the next influential leader may outweigh the benefits of industry knowledge.
5.) Forgetting the Domino Effect
Internal succession can result in a domino effect; for example, the CFO becomes the next CEO, the Controller becomes the next CFO, the Accounting Manger becomes the next Controller, and so on. It's common for companies to focus on the highest level and give less consideration to the lower level positions. This can create improper alignment of post-succession job responsibilities and ultimately lead to an unsuccessful transition.
6.) Keeping the Plan a Secret
Employees are attuned to the age and potential retirement of a company's leadership. Uncertainly about future leadership can lead to unnecessary distractions in the workplace. Keeping the lines of communication open about what may be coming down the pike will be a comfort to employees and reassure them that the long-term prosperity of the company (and their jobs) has been considered.
Brian J. Sharkey is a Director with Kreischer Miller and a specialist for the Center for Private Company Excellence. Contact him at Email.  
You may also like: