Tweet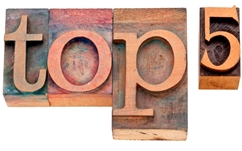 Out of all the posts we published on our Careers blog in 2018, a few seemed to be particularly popular and share-worthy among our readers.
Here are the top five posts from our Careers blog in 2018:
1. Diary of an Audit and Tax Intern – Part One
March 7

The public accounting internship experience can be incredibly rewarding. However, being in that real world environment for the first time – especially during busy season – can at times be a little intimidating. We asked two of our spring semester interns to write about their experiences at various points throughout their journey. In this first post, tax intern Joe Cannella and audit intern Alicia Tewksbury discuss their first few weeks on the job.
2. Using the STAR Technique for Standout Answers to Interview Questions
February 8
Many recruiters look for candidates who demonstrate certain sought-after traits by utilizing a standard set of behavioral-style or competency-based questions during the interview. Unfortunately, candidates are not always taught how to answer these types of questions, especially when they're just starting out in their careers. As a result they don't perform their best during an interview. To impress your interviewer and give effective answers to their questions, our Recruiting Manager Kristin Seeger highly recommends using the STAR technique.
3. The Importance of Owning Your Career
May 30
Our HR Director Bobbi Kelly has written previous posts for the Careers Blog in which she talks about why you need a champion, the importance of being open to receiving workplace feedback, and how to know where to go to get the answers you need. In this post, she explores how each of these these topics have one thing in common: they are essential tools for owning your career.
4. A Typical Day as an Audit & Accounting Senior
July 10
Ryan McCampbell reflects back on his first year as a senior auditor with Kreischer Miller. He explains that the only thing he can really say about a "typical" day as a senior accountant (other than that it can be very unlike a day as a staff accountant) is that every day is different. But there are some common elements to the role that exist no matter how unique each day is. Here are his top three.
5. How to Prepare for an Interview
April 4
Whether you're a recent graduate or an experienced professional making a change, interviewing for a new job can be daunting. As a recent graduate, our marketing coordinator, Molly Klein, explains what she had learned about preparing for the interview process. Here are a few tips you may find helpful when preparing for your next interview.
Check out some of the other posts you may have missed this year on our Careers blog. And to make sure you don't miss any future posts, subscribe via the link below!