Tweet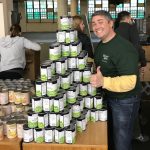 In 2012, Kreischer Miller launched the Kreischer Miller Cares Day of Service as part of our Kreischer Miller Cares program. This annual event offers an opportunity for our team members to volunteer at local service organizations and provide hands-on community service. For many of our team members, the experience goes beyond just giving their time, energy, and skills. Their volunteer efforts offer them the opportunity to connect with their communities and impact the well-being of others.
This year's Day of Service took place on Friday, May 5. Team members had the opportunity to volunteer at one of several Impact Thrift Stores locations, the SHARE Food Program, or Valley Youth House. We asked a few of our team members about their personal volunteer experience and what made the day memorable and meaningful. Here are their responses.
Impact Thrift Stores (Norristown location)
I had the opportunity to volunteer at Impact Thrift Store in Norristown for our Day of Service. Impact Thrift Store sells donated items at thrift store prices and then in turn donates the cash proceeds to other charities.
I personally enjoy working with my hands and getting dirty, so when the Impact volunteer position was advertised as sorting and cleaning donations I knew it was a match. Four of my coworkers and I were able to sort and clean numerous pallets full of donations, while also finding some things along the way that we'd like to buy. We figured we could volunteer our time and also make our cash donation!
Easily the best part of the day, however, was getting to interact with Impact's employees. Hearing how appreciative they were of our help was the icing on the cake of the whole experience. Everyone works hard at Impact but it was really cool to see how they work together as a team and create an awesome atmosphere to be a part of.
It's a great feeling to walk away at the end of a hard day's work knowing that you helped make the world a little bit better.
Brad Runyen, Director
Impact Thrift Stores (Montgomeryville location)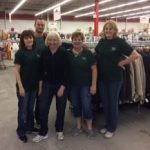 It's obvious that the Impact Thrift Store in Montgomeryville is important to the community just by the size of the store and the merchandise available. A lot of work goes into keeping the store stocked and up-to-date. Even though we were only there a short time, it was rewarding to be able to volunteer in the community in which I live.
I was very aware of the pride the employees took in their work, in explaining what we needed to do, and assisting the customers in the store. Following their lead made us feel useful and the day productive.  
Theresa Mumenthaler, Administrative Assistant
I like that the Impact stores provide a place for people who may be working with a very limited budget to go and buy things (many brand new or gently used) at a fraction of what they would pay retail, and that the store then donates the proceeds to several charities. Hopefully our volunteer work lightened the load for the store employees – at least for that one day! I think it's always a meaningful use of my time when I can help someone.
Sue Wahrhaftig, Administrative Assistant
I like the fact that Impact passes items they can't use on to other charities in the U.S. and abroad, and that they recycle. Nothing is wasted. I also like that Impact provides a resource for people who may not have the means to buy new.
Kim Cardamone, Paraprofessional
Impact Thrift Stores Distribution Center (Montgomeryville)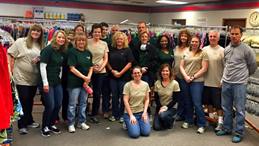 This year I volunteered at Impact Thrift Store's Distribution Center in Montgomeryville. Since I volunteered at Impact's retail location in Norristown last year, it was interesting to see all the work that goes on behind the scenes at the distribution center to process and sort donations before the items are shipped to the retail stores for sale.
Our team spent the day working on various tasks throughout the Center, including sorting and hanging clothing as well as cleaning and checking electronics equipment. I was amazed to learn that everything is used or recycled at Impact; nothing goes to waste. For example, when they receive clothes that aren't in good enough condition to sell in their retail stores, they sell them to a third party that breaks them down for reuse as cleaning cloths. I also couldn't believe the sheer volume of items the staff processes on a daily basis – boxes of donations were stacked all the way up to the ceiling!
It was fascinating to see what a well-oiled machine the Distribution Center is. And their employees' passion and enthusiasm for their mission really shone through. The staff relies on a steady stream of volunteers to keep things moving forward, and it was a great feeling to know we were able to help them out. I'm looking forward to going back!
Melanie Vivian, Marketing Director
SHARE Food Program (Philadelphia)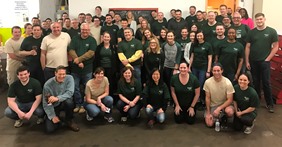 For this year's Day of Service I volunteered at the SHARE Food Program. I enjoy our day of service for several reasons, including the impact we can make as a team in our own community, to get to know people that I don't often cross paths with in the office, and to use our skills and determination to contribute to their honorable mission.
I have been to SHARE in the past and I am always amazed by how well such a large group can work together to capitalize on our time there and efficiently pack as many boxes as possible. At the end of the day, looking back on the pallets stacked with food boxes that will be distributed to those in need, it was both a rewarding feeling and humbling to realize how much need there is right here in our own region.
I look forward to this day every year, to be welcomed back by such a friendly team at SHARE and to spend our day giving back to the community.  
Hannah Moran, Senior Accountant
Valley Youth House – Camp Fowler (Orefield, PA)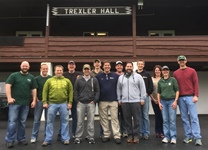 What attracted me to Valley Youth House's Camp Fowler location was its mission to provide therapeutic, challenge-based summer camps to youth organizations. With 43 acres of hiking trails, streams, and obstacle courses, it provides a great opportunity for children and young adults to gain experiences they may not be able to have otherwise.
The KM team at Camp Fowler would have normally been outside getting the property ready for the summer campers, but the wet weather restricted us to indoor projects working on the kitchen, bath house, and main lodge.
I think I speak for everyone who joined me at Camp Fowler that the biggest motivating factor that day was the camp's director, Matt Galle. Matt was extremely personable, went into great depth about the camp and its purpose, and is just a plain old great guy.  We met his son Carson and his wife Patricia, who were also helping out at the camp with us. At the end of the day, Matt said he was "blown away" by the amount of work we accomplished and could not thank us enough.
I believe it goes without saying that we would gladly return to Camp Fowler in the future and help out again!
Brian Sharkey, Director
Valley Youth House – Bucks County Shelter (Warminster, PA)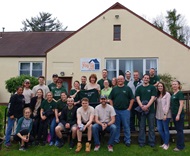 When deciding where to volunteer for our annual Kreischer Miller Cares Day of Service, I was looking for an organization that not only helped out in our local community, but that also seemed to need a little more help than some larger charitable organizations with well-oiled volunteer systems that help them achieve their goals of assisting their communities. With that in mind, I chose Valley Youth Center.
While their staff may be small, their energy and enthusiasm for helping the youth in the area cannot be matched. Valley Youth Center assists our region's distressed and homeless youth, providing shelter and structure for kids looking for help as well as those simply passing through the area.
While at Valley Youth's Warminster location we were able to help the staff organize the unbelievable amounts of clothing donations. We also cleaned and organized "to-go bags" of toiletries for the outreach team that travels to remote areas to assist youths who have escaped their home life or are looking for a new start on their own. As a team we were able to create a space for the residents of the Youth Center to "shop" and pick out their clothes, which provided a sense of independence to the residents. While the amazing staff at Valley Youth would have been capable of organizing the donations that had accumulated, our team's presence allowed them to focus on the most important part of their job – the kids!
I would love to return and continue to assist with Valley Youth Center! Hopefully next time the weather will cooperate and we'll be able to assist with outside projects too!
Reed Brown, Manager


You may also like: