Tweet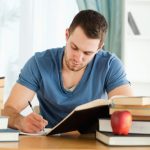 As many of you know, the busiest time of year for public accounting firms is from January until mid-April. For college students seeking full-time internships in public accounting, this time of year often coincides with the spring semester. To make up for this overlap, some universities have built their program to allow students to completely dedicate their time to the internship during these months, and then take courses originally scheduled for the spring semester during the summer.
For those who attend smaller universities, myself included, it is not always an option to complete a full-time internship during the accounting busy season. One of the main reasons is that the university may not offer certain core accounting classes over the summer. Although this situation is not ideal, I've learned that it is still possible to achieve your goals.
I was able to successfully complete an internship as well as my course requirements by taking initiative and utilizing all of the tools for growth that were offered at both my university and at Kreischer Miller. Here are a few things I learned along the way that may be helpful if you find yourself in a similar situation:
Make connections. Without the connections that I formed in my network, I would not be in the position that I am today. One of my accounting professors who became a great mentor informed me about Kreischer Miller when I told him I was interested in public accounting. I always worried about not being able to complete an internship in public accounting based on the circumstances, but I was extremely happy to hear that Kreischer Miller offers part-time internships in its Internal Operations department throughout the school year for students like myself who are unable to complete a full-time, semester-long audit or tax internship.

After interviewing with Kristin Seeger, Kreischer Miller's Director of Talent Acquisition, who informed me about the company and the internship role, I was offered the internship. This opportunity would have never been possible without the connections I had previously made.

Take initiative. Although I had the idea that I wanted to enter public accounting upon graduation, I didn't have a clear view of whether I should choose audit or tax. I had a discussion with Kristin about each of these routes, and asked if it would be possible to speak with team members in the audit and tax departments and ask them questions about a typical day in their field. She was more than happy to schedule time on a day I was working to meet with staff members from both the audit and tax departments. These team members were extremely helpful in answering my questions, and I was able to determine that while both seemed like excellent choices, tax would ultimately be the better option for me.

Ask questions. While you learn a lot in school, there is so much more you can learn from being on the job. During my internship in the Internal Operations department, I assisted with the internal accounting aspects of the firm, such as billing and tax processing. Over the course of my internship, I encountered so many knowledgeable individuals who went above and beyond to teach me new things and to answer any questions that I had. This just goes to show the fantastic culture that Kreischer Miller has instilled at the firm. Having a team that encourages you to ask questions and that is willing to take time out of their busy days to teach you new things helps tremendously on the journey to not only becoming more comfortable on the job, but to also developing the skills you need to have a prosperous career.

Be willing to be flexible.

If I had been narrowly-focused on a traditional full-time audit or tax busy season internship, I would have missed out on the opportunity at Kreischer Miller and I may not have been able to complete a public accounting internship at all. Working in Internal Operations was a slightly different role, but I learned so much and was still able to benefit from the exposure to the public accounting firm environment – not to mention, it was a tremendous opportunity to expand my professional network even further.
At the end of the day, your character and work ethic will ultimately determine your success, not whether you were able to complete a full-time audit or tax internship. If you are a current student finding yourself in a similar situation as mine, remember to make connections, take initiative, ask questions, and be willing to be flexible. Taking these steps will lead you to a successful career path.

Shane Donaghy is a staff accountant in Kreischer Miller's Tax Strategies group. Contact Shane at Email.


Also check out: