Tweet
Competition and Declining Demand Cited as Most Significant Barriers to Growth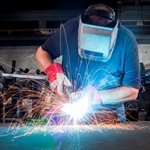 HORSHAM, PA, March 30, 2016 — Kreischer Miller, a leading independent accounting, tax, and business advisory firm serving the Greater Philadelphia area since 1975, today announced that its Manufacturing Industry Group has released the results from its fourth annual Greater Philadelphia Manufacturing Survey. Key areas of the survey included 2016 expectations for revenue growth, capital investments, hiring, and the economy. It also examined trends in research and development (R&D), workforce compensation and training, business improvement initiatives, key operational and production measures, and cyber security and risk management.
According to the survey, middle market manufacturers in Greater Philadelphia are notably less optimistic about their growth prospects for 2016 than they were last year. Over 40 percent of respondents indicated they expect revenues to stay the same or decline this year. And while 30 percent said they think their revenues will grow more than 5 percent in 2016, the number is significantly lower than the 61 percent who responded similarly in 2015's survey.
When asked about their expected barriers to growth in 2016, competition from domestic markets (37 percent) and foreign markets (30 percent) were the most frequently cited factors. Healthcare costs (33 percent) remain a major concern, as does the lack of qualified workers (28 percent).
That said, the majority of respondents (56 percent) view increasing market share or growth in their existing markets as their main opportunity for growth over the next 12 to 18 months. Another 23 percent cited mergers, acquisitions, and strategic alliances as their primary growth strategy for 2016.
"Softening manufacturing activity in the second half of 2015, weakening demand in domestic and foreign markets, interest rate uncertainty, and even recent stock market volatility are all likely playing a part in the less optimistic outlook for 2016," said Michael A. Coakley, a director in Kreischer Miller's Audit & Accounting practice and head of the firm's Manufacturing Industry Group. "However, our region's manufacturers still seem focused on making prudent business investments to position themselves for future growth and profitability."
The lack of qualified workers also remains a major concern for manufacturers in the Philadelphia region. A tightening labor market due to declining unemployment rates has led to a competition for talent, and thus, higher turnover and wage pressure. While 60 percent of respondents indicated manageable turnover levels of between one and five percent in 2015, that number was significantly higher than the 48 percent who cited the same level of turnover in 2014. Additionally, those companies with turnover greater than 10 percent jumped from five percent in 2014 to 11 percent in 2015.
Other notable findings from the survey:
When asked about key methods used in the past year to increase profitability, respondents' top answer was application of new capital equipment (72 percent), followed by the use of improvement methodologies (67 percent), development of new products or services (65 percent), and investments in workforce (63 percent).
Thirty-one percent of respondents plan to increase R&D spending in 2016, while the remaining 69 percent plan to maintain the same level of spending as 2015.
The most frequently-cited planned capital expenditures for 2016 were manufacturing equipment (69 percent), computer hardware (52 percent), and software (49 percent).
Only 41 percent of respondents plan to increase headcount in 2016, versus 58 percent of respondents in last year's survey.
More than two-thirds (69 percent) of respondents have not conducted a vulnerability assessment – a review of potential security weaknesses within their IT systems.
Kreischer Miller distributed electronic surveys in December 2015 to middle market manufacturers in the Greater Philadelphia region, including southeastern Pennsylvania, southern New Jersey, and Delaware. Respondents included companies with annual revenues ranging from less than $1 million to $700 million, and averaging $54 million. Respondents represented a diverse cross section of the manufacturing sector, including companies in industrial equipment and machinery, defense, construction, consumer durable goods, metal work and machining, and specialty packaging.
Download a copy of the full survey results.
Contact:
Melanie L. Vivian
Marketing Manager
(215) 441-4600
Email
About Kreischer Miller
Kreischer Miller is a leading independent accounting, tax, and advisory firm, serving the Greater Philadelphia area since 1975. The firm is built to respond to the unique needs of growth-oriented private companies, helping them smoothly transition through growth phases, business cycles, and ownership changes. Kreischer Miller offers a wide range of services, including Audit & Accounting, Tax Strategies, Business Advisory, Human Capital Resources, and Technology Solutions across an array of industries, including manufacturing, distribution, construction, real estate, not-for-profits, media, government contracting, professional services, family-owned businesses, and investment firms. The firm provides insight and creative services to organizations that need to be able to quickly adapt and respond to changing market opportunities and challenges. To learn more, call us at 215.441.4600 or contact us here.