Tweet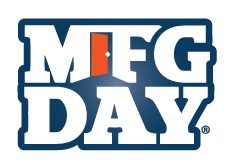 The first Friday of each October is designated as Manufacturing Day (MFG DAY). October 6, 2017 marks the sixth straight year of this national event celebrating the manufacturing industry.
What is MFG DAY?
It is a day set aside for manufacturers to invite students, teachers, parents, politicians, and business people into their shops to educate them about modern manufacturing in the hopes of changing public perceptions about the industry and inspiring the next generation of manufacturers.
Why does it matter?
The manufacturing industry contributes approximately 12 percent to our gross domestic product at both the national and state levels and represents over 9 percent of our workforce. Taken alone, U.S. manufacturing would represent the 9th largest economy in the world. Yet as significant as that is, the industry continues to be hindered by a shortage of skilled labor and open positions that go unfilled. A wave of baby boomer retirements and years of negative imagery about the industry are largely to blame.
Is the initiative working?
According to the MFG DAY website, the number of events ("open doors") hosted across the nation has grown over 1,000 percent since its inception in 2012. Last year, nearly 600,000 people ("open minds") participated in MFG DAY events.
A follow up survey of students who participated last year indicated that 89 percent became more aware of manufacturing in their own communities, 84 percent became convinced that a manufacturing career could be interesting and rewarding, and 64 percent said they were more motivated to pursue such a career.
How can everyone help?
Manufacturers can sign up through the website to host an open house. Business people can encourage their manufacturing clients and friends to host or otherwise participate in an open house. Teachers and educators can spread the word to their students and allow them the time to attend an open house in their region. Parents can participate to learn more and encourage their children to do the same.
To find out more about Manufacturing Day, including how to host an open house event or to locate an open house in your region, visit www.mfgday.com.
Michael A. Coakley can be reached at Email or 215.441.4600.

You may also like: