Tweet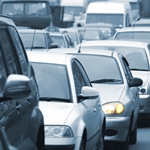 Bottlenecks are unfortunately all too common in many manufacturing operations – on the shop floor or even in the office – and often go unidentified, or worse, uncorrected.
What is a bottleneck? In his book, The Goal: A Process of Ongoing Improvement, Eli Goldratt offers the example of a young boy named Herbie who could not keep pace with the rest of his scout troop on a hiking trip. Herbie caused the boys in front of him to get too far ahead and those behind him to get bunched up. In this scenario, the hiking trip is a process and Herbie is the bottleneck.
A process can only flow as fast as the slowest step in that process. A bottleneck will bring any process to a grinding halt, causing everyone or everything behind it to wait and accumulate.
When bottlenecks occur on the manufacturing shop floor, they create problems both upstream and downstream. Downstream, products are delayed getting to the customer, and workers and machines are waiting. Upstream, they can cause overproduction and almost always excess inventory. Typically, too much raw material is consumed ahead of the bottleneck, while work-in-process inventory accumulates at the bottleneck in excess of what is being demanded by customers. And excess inventory means less cash!
All of this inefficiency is bad for business.
So how can you bust bottlenecks to smooth out the production process and improve cash flow? Some solutions may include:
Adding resources at the bottleneck point (people or machines)
Shifting workloads to get the right people in the right roles at the right time
Eliminating non value-added activities in the process
Developing consistent work practices
Building quality into the process to avoid rework or unnecessary work
Avoiding batch processing and moving toward a one-piece flow process
Identifying and busting bottlenecks in your production process will lead to a better allocation of company resources, resulting in lower inventories and more cash. It will also yield efficiencies all along the process because everyone and everything will be working at the same pace. Plus, it will result in better on-time delivery rates to customers…and likely more sales.
Where are your bottlenecks and what should you be doing about them?
Michael A. Coakley can be reached at Email or 215.441.4600.

Related content: