Tweet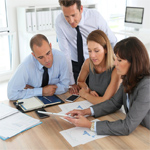 An audit is the highest level of assurance that a CPA performs, and it is intended to provide the user comfort on the accuracy of financial statements. As summarized by the AICPA, an audit includes performing procedures in order to obtain reasonable assurance about whether the financial statements are free from material misstatement. In practice, audits are used by companies to satisfy numerous obligations, including
requirements by regulators and banking institutions, as well as board governance.
Some executives view the annual audit as a compliance exercise – a necessity performed due to regulatory requirements, lender requirements,
or ownership needs. Quite often, management simply looks forward to the final deliverable of an audit engagement – a short auditor's report.
However, there is much more value that can be derived from the exercise. Audit professionals spend hours performing required company risk assessments, walkthroughs of operational processes and internal controls, assessments of service providers, and tests of information provided by the company. As a result, they accumulate a
wealth of knowledge that can be tapped by management to make improvements to the organization.
Here are five of the most significant areas of opportunity:
Process and Internal Control Best Practices Walkthroughs. Process and internal control walkthroughs are interactions between the auditor and a company's operational and accounting teams on significant areas of focus. Auditors are regularly exposed to best practices at a variety of industries and companies, both public and non-public. You can certainly benefit from tapping your auditor's knowledge and their more unbiased, external perspective. They can suggest additional ways to effectively safeguard assets, segregate duties, streamline secondary reviews, and identify the skill sets and backgrounds that would best fit certain roles.
Data Control. In today's information and digital world, there is an evergrowing need for data mining and extracting more meaningful analyses from underlying
data to better manage the business. A large number of offerings and consultancies provide related services. While much of this information gathering comes from external sources, a company's internal data is perhaps the most important input. Actively participating in meetings with your auditor and asking probing questions
regarding the sources of information and what is being tested and relied upon can provide an invaluable understanding of the data used to assist in their decision-making process.
Continuous Involvement. You should communicate with your auditor throughout the year, not just at audit time. This helps continuously grow their understanding of your business, which in turn minimizes surprises from a regulatory, filing, or project completion perspective.
Operational Improvements. You can tap your auditor's insights to spot areas to run your business more cost-effectively. You may also identify ways to allocate resources more effectively to targeted areas that need more immediate focus.
Sounding Board. Given their experience working with companies both in your industry and across various industry sectors, your auditor can serve as a sounding board for guidance on significant transactions, system implementations, operational growth, risk assessments, and best practices as you manage and grow your company.
An experienced and actively engaged audit team will interact with management during the audit and throughout the year. Your team can provide you with additional knowledge and insight to strengthen company operations, make better use of your data, and implement best practices.
John M. Guerrieri can be reached at Email or 215.441.4600.
You may also like: