Resource Center
News, tools, and information to keep you up-to-date and looking forward.

Looking Forward
May 25, 2018
Whether you have already made the decision to sell the business, or you're still considering it as a possibility, owners and management need to review and consider several factors.
View

Looking Forward
May 25, 2018
There are several factors that impact how a lender evaluates the creditworthiness of your business. Here are some qualitative and quantitative factors to consider.
View

Looking Forward
May 25, 2018
The following five tasks should be addressed prior to your next audit or advisor meeting.
View

Looking Forward
May 25, 2018
It's very possible that corporate social responsibility (CSR) doesn't make it to the top of your priority list all that often. Not only is it the right thing to do, but it's also good for business.
View

News & Press
May 21, 2018
Kreischer Miller's 2018 Greater Philadelphia Manufacturing Survey was recently featured in a philly.com article about manufacturing sentiment.
View

Looking Forward
May 21, 2018
Most organizations have become heavily dependent on external resources and providers who can assist with deploying and supporting their systems. Because these relationships are so critical to an organization's success, finding the right provider is essential – and often difficult.
View

Interviews
May 21, 2018
Smart Business spoke with Tyler Ridgeway, Director at Kreischer Miller, about how middle-market companies can ensure successful leadership transitions.
View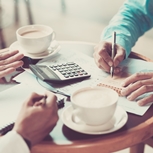 Blog, Governance & Leadership
May 18, 2018
Your professional advisor network can bring an incredible wealth of information to your business by sharing the experiences they have had with their other clients.
View

Blog, Transfer & Exit
May 10, 2018
At Kreischer Miller, we use a transition planning model with our clients that has three critical high-level elements: business readiness, owner emotional readiness, and owner financial readiness.
View

Events
May 23, 2018
Wednesday, May 23, 2018 | The Inn at Villanova University | Wayne, PA
View