The Fraud triangle is a tool that is used to describe how fraud occurs in a business, and it is something that every business owner should understand.
Many believe that those who commit white collar fraud are career criminals who get up in the morning with the intent to steal. However, this is generally not the case. The actual process of how fraud manifests itself is complex and has three key elements as noted in the diagram below: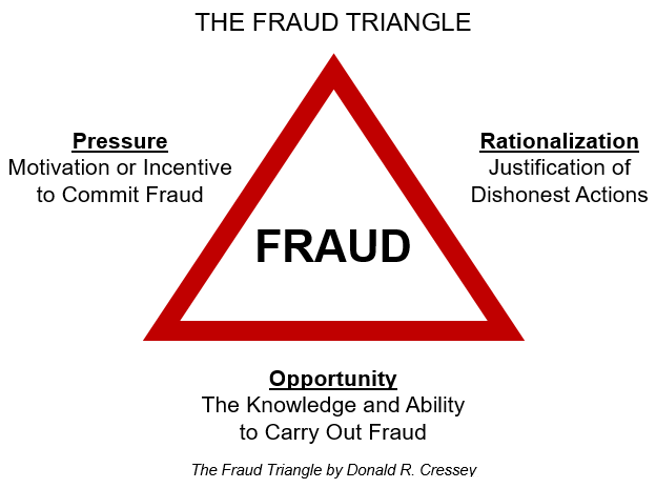 Pressure. Fraud typically begins when an individual is under financial pressure. This pressure can take both tangible and intangible forms. These can include life events such as a divorce or a custody battle, healthcare issues, the loss of a family breadwinner, or vices such as drugs, alcohol, or a gambling addiction. Other forms might include family pressure.to maintain a certain lifestyle, the need to be viewed as successful and taking on debts that are not manageable. It is important to note that the pressure may only be temporary, but it may push a person to do things they would not normally do.
Rationalization. An individual who commits fraud knows that it is wrong, but rationalizes their behavior and justifies their actions. When the pressure is intense, it becomes easy to rationalize the bad behavior because it fulfills the immediate need to release the pressure.
Opportunity. Faced with mounting financial pressure, the fraudster seeks an opportunity to relieve the pressure. The fraudster needs to access funds and will attempt to do so in the most convenient and least transparent way so they don't get caught. The individual's skills and background often determine their approach to access money.  Some people may rob a bank. Others who work in the accounting department at a company may have a better opportunity to conceal the fraud if the right circumstances exist within a weak internal control system.
A company can only control the opportunity part of the fraud triangle. This is done by maintaining strong internal control systems with proper segregation of duties to prevent someone from stealing the company's assets. Below are items to consider:
Review the use and approval of company credit cards as well as the process for approval and payment of expense reports.
Review check signing and online banking permissions and access.
Consider two step approval for wires and ACH transfers.
Consider separating the handling of cash receipts from the handling of the deposit and recording the transaction.
Review who has access to pay rates and who is able to add new employees to the payroll.
Make sure bank reconciliations are not performed by those handling receipts and signing checks.
Review physical access to check stock and avoid using signature stamps.
Consider limiting system access to personnel based only on their needs.
Require cross training of accounting personnel and required vacations.
Consider a password rotation policy for systems access.
Consider a fidelity bond or other theft insurance coverage.
In addition to preventing opportunity, it is important to be aware of what is happening in your employees' lives and to note changes in their behavior. When fraud takes place, there are oftentimes behavioral signs that accompany it.
While no company is 100 percent fraud proof, the fraud triangle is a great tool that can be used to assist your efforts in preventing fraud.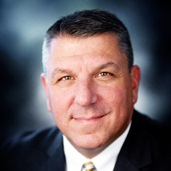 Mario O. Vicari is a director with Kreischer Miller and a specialist for the Center for Private Company Excellence. Contact him at Email.   

You may also like: