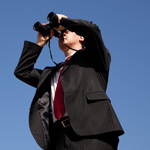 At the start of each New Year, we often step back and commit to bettering ourselves in some way. As someone running a private business, a natural focus is to think about becoming a better leader for your organization.
Particularly this year, with a change in American leadership, there is a focus – and plenty of disagreement – on what constitutes a good leader. By and large, the experts and pundits agree that great leaders are the ones who empower their teams to have success.
Here are 17 quotes for 2017 from leaders and observers on what leadership means.
"Great leaders are almost always great simplifiers who can cut through argument, debate, and doubt to offer a solution everybody can understand." – Colin Powell
"The future is not shaped by people who don't really believe in the future. [It is shaped] by men and women who want something very much or believe very much." – John W. Gardner
"The greatest leader is not necessarily the one who does the greatest things. He is the one that gets the people to do the greatest things." – Ronald Reagan
"The price of greatness is responsibility." – Winston Churchill
"The only man who never makes a mistake is the man who never does anything." – Theodore Roosevelt
"Leadership is not magnetic personality – that can just as well be a glib tongue. It is not 'making friends and influencing people' – that is flattery. Leadership is lifting a person's vision to high sights, the raising of a person's performance to a higher standard, the building of a personality beyond its normal limitations." – Peter Drucker
"The supreme quality of leadership is integrity." – Dwight D. Eisenhower
"The problem is not the problem. The problem is your attitude about the problem. Do you understand?" – Captain Jack Sparrow
"You must do the things you think you cannot do." – Eleanor Roosevelt
"A man who wants to lead the orchestra must turn his back to the crowd." – Max Lucado
"A leader's job is to look into the future and see the organization, not as it is, but as it should be." – Jack Welch
"Leadership is not bullying and leadership is not aggression. Leadership is the expectation that you can use your voice for good. That you can make the world a better place." – Sheryl Sandberg
"Leaders become great, not because of their power, but because of their ability to empower others." – John Maxwell
"If you hire people just because they can do a job, they'll work for your money. But if you hire people who believe what you believe, they'll work for you with blood, sweat, and tears." – Simon Sinek
"The most powerful leadership tool you have is your own personal example." – John Wooden
"Leadership is the art of giving people a platform for spreading ideas that work." – Seth Godin
"Earn your leadership every day." – Michael Jordan
Perhaps the hardest aspect of leadership is keeping your eyes on the horizon while also paying attention to the day-to-day. Hopefully this list of quotes will inspire you to do both in 2017.
Contact us at 215.441.4600 or Email if you have questions or would like to discuss how this topic may impact your business.
You may also like: