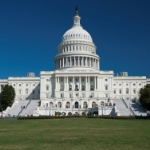 On September 8, 2015, President Obama signed an Executive Order outlining rules and regulations around paid sick leave for federal government contractors. Below are the key points from the Order, which will become effective January 1, 2017:
Employees must accrue at least 56 hours of paid sick leave per year.
Paid sick leave must cover absences for

physical or mental illness, injury, or medical conditions,
obtaining diagnosis, care, or preventive care from a healthcare provider, or
caring for a child, parent, spouse, domestic partner, or any other individual related by blood or affinity whose close association with the employee is the equivalent of a family relationship and who has the any of the conditions or needs described in 1) and 2) above.

Unused paid sick leave will carry over from year to year and shall be reinstated for employees who are rehired within 12 months after a job separation.
Paid sick time cannot be contingent upon finding a replacement to cover any work missed.
There is no credit towards the Service Contract Act or the Davis-Bacon Act for any paid sick leave provided by this Order.
Employees should provide seven calendar days' written or oral notice to the employer of the expected duration of the leave, if practical. If not, as soon as is practical.
Employer may require certification from a healthcare provider for certain employee absences of three or more consecutive days; such certification should be provided no later than 30 days from the first day of leave.
Employer cannot disclose any verification information and shall maintain confidentiality of certain information unless the employee consents or when disclosure is required by law.
Employer is not required to pay for unused sick leave upon separation from employment.
Employer cannot interfere with or discriminate against any employee taking or attempting to take paid sick leave.
There is no small business exception.
Cecelia Munoz, director of the White House Domestic Policy Council, said the rule would not prompt additional federal spending.
"The benefits with respect to businesses will more than offset the costs and ultimately make them, as employers, more productive and more efficient, and therefore more valued to the taxpayer," Munoz said.
In addition to the above, the Department of Labor raised the minimum rate for federal contractors to $10.15 per hour, a $0.05 per hour increase from the $10.10 hourly rate that took effect on Jan. 1, 2015.
David E. Shaffer can be reached at Email or 215.441.4600.

You may also like: