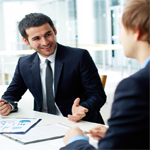 There are many reasons business owners should maintain a good relationship with their lender.  Below is just a partial list:
They can be a key adviser to your business. By reviewing your cash flow periodically, they can assess your financial readiness to meet your goals for your business.
They can provide other resources to your business that they have had positive experiences with including accountants, attorneys, insurance agencies, real estate agents, or appraisal companies.
They can provide new business opportunities, especially if your customers are other businesses.
They can assist in getting your loan(s) renewed or approved since they can vouch for you to others they work with.
They can do you a 'favor' when needed. For example, if you receive a fee for an overdrawn account for the first time, and you typically maintain 'healthy' cash balances, they may be able to get the fee reversed.
They can provide references to potential vendors.
How do you facilitate the relationship with your banker? Communicate, communicate, and then communicate some more. Here are a few tips:
Meet at least every six months with your lender to review your financials and goals for both the short-term and long-term.
Always keep your promises. If you agree to deliver financial statements quarterly by the 15th day of the following month, it is important that you meet the deadline.
If you are providing budgets or projections, review them in detail with the bank and go over any key assumptions that you have made in preparing them.
Don't always talk about the 'good' of your business. If you are struggling with a business issue or not doing as well as you had originally projected, call your lender and explain the situation.
Ask for their input so you can work to rectify the issue.
Treat them as a partner in your business. If you have built up a lot of goodwill with your lender, you do not want to give this away because another bank offers you a lower loan rate.
No surprises. Don't put your lender in a position in which they have to go to their superiors with an item that was unexpected. The better you make your lender look in front of their superiors, the more they should assist you when you need help.
Make a list of your bank covenants and review them monthly. Be sure your key management are also aware of the covenants to which you have agreed. Having your accountant notify you that you violated a promise that you made to the bank is not good for your relationship.
All of our clients have different relationships with their lenders but our better clients treat their lender as a key player in their management team. They realize the importance of keeping their lender informed of all major business issues and of the goals they are working to achieve.
David E. Shaffer
 is a director with Kreischer Miller and a specialist for the Center for Private Company Excellence. Contact him at Email. 
You may also like: