Back to Events
Center for Private Company Excellence Seminar | 2022 Economic and Market Outlook
Wednesday, February 9, 2022
4:00 pm - 5:30 pm
2022 Economic & Market Outlook
Featuring Scott Clemons, Chief Investment Strategist, Brown Brothers Harriman
Wednesday, February 9, 2022
4:00pm - 5:30pm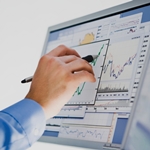 2022 is a year of continuing transition, as economic leadership reverts back to more traditional drivers, and we learn whether higher inflation is a lasting price to pay for the policies that rescued the economy over the last few years. At the same time, monetary policy is transitioning back to a more appropriate level, and interest rates are headed up. The silver lining in all of this is a surge in productivity that is boosting economic output and corporate earnings.
BBH's Chief Investment Strategist, G. Scott Clemons, and Kreischer Miller discussed how all of this is likely to affect the economy, business environment, and financial markets throughout 2022.
Presenters:
Mario Vicari, Director, Kreischer Miller
G. Scott Clemons, Chief Investment Strategist, Brown Brothers Harriman
Click here to download the slides from the presentation.
Watch the rebroadcast: