Tweet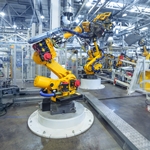 Some of the biggest newsmakers in the business world of late include:
The skilled labor shortage and the supply of available jobs exceeding the supply of available labor;
The ongoing imposition of tariffs and resultant escalating trade wars; and,
Inverted yield curves and other signals of a possible recession and looming bear market.
Labor and tariffs and bears (oh my!). The first two issues – labor and tariffs – are nothing new. In fact, they were listed as the top two expected barriers to growth by respondents in our 2019 Greater Philadelphia Manufacturing Survey released this past spring and the more recent chatter about recessionary pressures and indicators of a bear market may have been presaged by the slightly tempered outlook on the economy reflected in our survey as compared to a year ago.
While not much, if anything, can be done about the bears, there are some things that manufacturers can do to address their labor and tariff issues.
Tackling the skilled labor shortage starts with increasing awareness. Too many people simply don't have much firsthand knowledge of today's manufacturing. The industry is safer, cleaner, and more technologically advanced than ever, yet too few of today's youth are being encouraged by their parents or school counselors to pursue careers in this area of specialization.
Manufacturing Day – an annual celebration designed to motivate millions to learn about manufacturing – is a great opportunity to get those conversations started. Every fall, generally on the first Friday of October, manufacturers across America open their doors to show their communities, educators, parents, and students what manufacturing really looks like. You can help to awaken and inspire the next generation of manufacturers by hosting or attending an event on Manufacturing Day. For more information, visit their website here.
As for mitigating the risks associated with trade wars and higher tariffs, you may want to consider any or all of the following strategies:
Seek alternate or multiple sources of supply either overseas or domestically, especially if you are in a single source arrangement in an affected country. Where the overseas supplier is your sole source, you may want to increase lead times to ensure product is in hand when you need it.
Consider scrutinizing all of your inbound costs to evaluate whether there are any savings to be found. In particular, you should verify the appropriateness of the amounts (product and other charges) being subject to the tariffs to ensure that you are paying the tariffs only on that which is required.
Consider reviewing your product pricing strategy to determine when and how much of the additional tariffs you can pass through to your customers. While many companies have been absorbing some of the early tariff increases, there is a point at which the erosion of margin becomes too great to not consider passing along to your customers and end users.
External factors that affect your business can be especially frustrating, given the fact that they are outside your control. And while there isn't much any of us can do to prevent a recession or a bear market, there are ways to proactively tackle the dual challenges of a skilled labor shortage and higher tariffs that are facing manufacturers.
Michael Coakley can be reached at Email or 215.441.4600.

You may also like: