Advice and guidance for companies in the distribution industry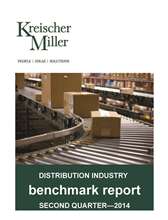 At Kreischer Miller, we acknowledge the differences between the distribution and manufacturing sectors. We also recognize the unique characteristics of segments within the distribution industry, such as food, chemicals, construction materials, office supplies, and home goods. Our dedicated team of professionals partners with our distribution clients to help them identify opportunities and overcome challenges that are specific to the industry. We focus our time and attention on matters that will help you improve your business and navigate change successfully.
Kreischer Miller's Distribution Industry Group focuses on the issues facing the industry by interacting and listening to our clients and attending industry events. Our education and training goes well beyond your traditional accounting needs. We host peer-to-peer learning sessions throughout the year, addressing topics such as:
Information technology and software enhancement
Inventory tracking devices and alternatives
Fuel management techniques
Logistics and the potential benefits of outsourcing
Public Law 86-272 and the challenges of multistate taxation
Core Services
Specialty Services for Distributors
Customer and product profitability analyses
Department of Labor requirements within the warehouse
Energy tax incentives and solar projects
State and local taxation – sales and use, nexus, and unclaimed property
Financing alternatives for low profit margin businesses
Inventory management, procurement policies, and order fulfillment
Research and development tax credits
What Clients Are Saying
"Through the years, Kreischer Miller has provided traditional accounting services to our company but, more importantly, they have formed a partnership with us that focuses on exploring new ideas, implementing strategies, and proactively addressing industry challenges. The sincere interest of the engagement team throughout the year has assisted us in planning for the future and mitigating potential business risks. We look forward to maintaining a positive and productive relationship in the future as our company continues to grow and evolve."
Christopher Dunton, President and Shareholder
Linton's Food Managed Services, Inc.
"We outgrew our existing accountant and were in need of a professional business partner that could support us, guide us, challenge us, and advise us through our various issues with the government in a language that we understood. We have found a business partner that understands the distribution industry, challenges us in an appropriate manner, and has earned our respect as a trusted advisor."
Louis Minore, President and Shareholder
Lou's Wholesale Distributors, Inc.
"Prior to becoming the CFO of Gelest, I was a partner in a public accounting firm which provided me with a true appreciation for the profession. My Kreischer Miller team goes well beyond the traditional accounting services by providing insights into industry trends and benchmarks, assisting us with support in our personnel needs and specialized tax services, and actively engaging in communication with senior management throughout the year. Kreischer Miller's ability to blend comprehensive services with engaging service has been a refreshing experience from a public accounting firm."
Former CFO and Shareholder
Gelest, Inc. and Subsidiaries